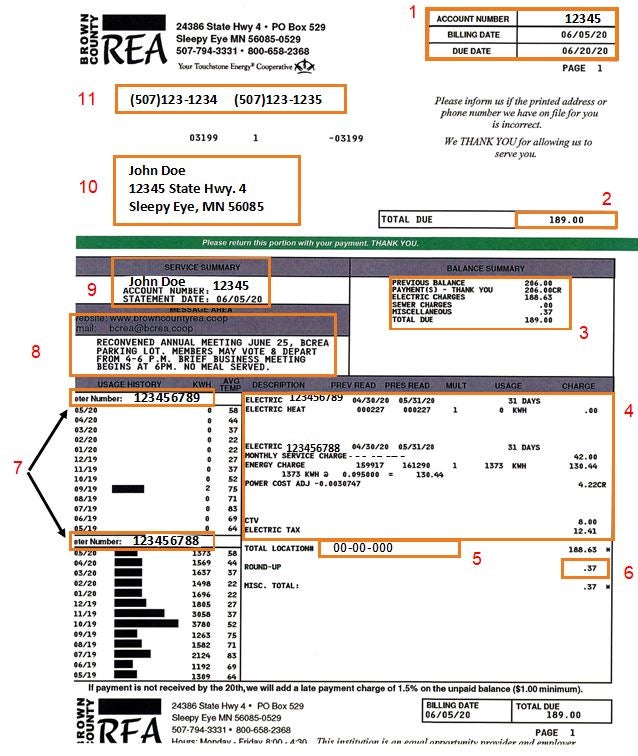 Has account number, billing date, and due date
Total amount that is due for this bill.
If statement says "ACH - Do Not Pay" this means you're enrolled in automatic payments from a checking or savings account.
If statement says "Paid by Credit Card" this means you're enrolled in automatic payments from a credit or debit card.
Shows a summary of charges, credits, and payments.
Shows a description of what you're being billed for.
Brown County REA's way of identifying the exact location of your meter.
Indicates if you are participating in the Operation Round-Up program.
Graphs that show usage history per meter and average temperature for the past year.
Information about Brown County REA news and upcoming events.
Brief information regarding the electric account.
Address bill is getting sent to.
If this changes please inform us.
Phone number(s) we have on file.
If these change please inform us.
Glossary of Bill Terms
Monthly Service Charge accounts for Brown County REA's investment in poles, wires, transformers, and equipment to provide members with electric service. It helps with upkeep of our fleet trucks and facility maintenance.
Demand Charge is the highest metered "demand" measured in kW for electricity in a 15-minute interval per billing cycle. The charge is calculated based on cost per kW used.
Power Cost Adjustment (PCA) is the increase or decrease in wholesale and transmission costs from out power supplier.
Energy Charge is measured in kWh for the amount of electricity consumed during the statement read dates and is multiplied by the current energy rate to calculate the charge.
Kilowatt is the rate of electricity (power) used.
Kilowatt-hour (kWh) is the measurement of electricity (energy) used. One kWh is equivalent to 1,000 watts used continuously for one hour. The higher the watt rating the more electricity it uses.
Usage Multipliers more than 1 is used when the meter only registers a percentage of the actual energy used. A multiplier is required to calculate the actual usage.